Diamond polished concrete is positioned as a superior and sustainable product and is presented as an alternative to polished or waxed concrete, epoxy floorings and other types of flooring. In some ways, this type of floor can offer finishes similar to natural stone.
Thanks to the different levels of finish, diamond polished concrete can be used in several types of housing : residential homes, industrial and commercial buildings (factories, commercial centers, shops, showrooms,…).
The advantages of diamond polished concrete are numerous. In particular, the aesthetic aspect, polished concrete comes in different types of finishes, in terms of gloss, color and aggregates (exposed, semi-exposed or "salt and pepper"). It is also a very economic and ecological type of flooring because there is no use of additional materials and it is very sustainable.
Through grinding and other treatments the floor offers optimal protection against fat stains and most liquids except harsh chemicals).Cleaning is very easy.
Sols Concepts also offers the coloration of concrete tiles through impregnation with pigments. This technique offers you a large pallet of aesthetic choices without coloring in the mass or on the surface which fades in time.
English
Intro:
Diamond polished concrete is a smooth concrete floor which was processed by mechanical grinding and polishing using diamond tools. The process is similar to the grinding of wood. It can be obtained from any existing slab, as part of a new installation or a renovation. The properties are quite different from polished or waxed concrete.
Grande photo: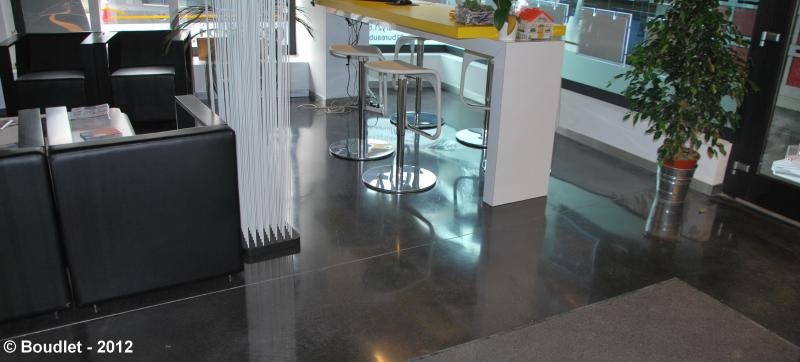 Galerie: